Kamran On Bike: how it all started…
Kamran Ali is both a long distance cyclist as well as an outstanding photographer accredited by many including National Geographic. So far, he has covered 50.000 km across 43 countries on four continents. Kamran cycled 10.000 kilometers from Germany to Pakistan and 33.100 kilometers from Ushuaia in Argentina, to Alaska.
Kamran Ali

Santos Travelmaster 3+
"My bicycle travels have taught me that the world could be a better place if we knew about the other a little more. Realizing we are all one can help us become more compassionate. We need empathy at the centre of our hearts to create a humane world. I believe that storytelling has this power to change people's perceptions towards others and inspire them to do good things. With this idea, I tell real-life stories through photos, videos, and writings"
Bicycle touring is one of Kamran's biggest passions. He did several bicycle tours in Pakistan. His first was as a 13-year-old. He picked up two friends and did a round-trip to a nearby town covering 52 kilometers a day. This tour had an exhilarating effect on Kamran. In the following years, he made solo trips to various cities in Pakistan, often in extreme summer heat with temperatures in excess of 45 C°, travelling super-ultralight without any prior training or preparation, and with almost all borrowed gear including the bicycle. His longest trip in Pakistan was in 2002 when he pedalled about 400 kilometers from Multan to Lahore in less than two days. This tour was a bit special for Kamran as he had just quit his teaching job in order to regain the lost freedom and his adventurous spirit.


"He was struck by the vastness and the magnificent beauty of nature's landscape that stretched below the plane

A few months later, something strange happened to Kamran when he was leaving to Germany for further studies. During his flight from Islamabad to Frankfurt, several thousand feet up in the air, Kamran stared out from this window seat and didn't blink an eye. He was struck by the vastness and the magnificent beauty of nature's landscape that stretched below the plane. Rivers appeared as curved lines, cities like brown carpets scattered over the green fields, mountains like wrinkles on the old rough colored paper. Mesmerized by what he saw, Kamran wondered what it would feel like to be in these places? What the local people would be like? The languages they spoke? The culture? The streets and climate? The food and music? Sadly, he couldn't get an answer to any of those questions from the plane window. A strong wish arose from the bottom of his heart and he closed his eyes.
He had secretly promised himself that one day he would come back and visit all these places by bicycle and discover the answers to these questions for himself. So the seed was sown and after nine years patient waiting, it sprouted in the form of Kamran On Bike.

"Will it be Africa?


Kamran reached out to Santos Bikes in early 2022. He was looking for a superstrong and ultimately reliable bicycle. Ready to go on any adventure. So we listened to what he had in mind and then started building this Santos. It was officially handed over at Eurobike. Now they are on their way to Pakistan where preparations for the next trip are in full swing. Will it be Africa?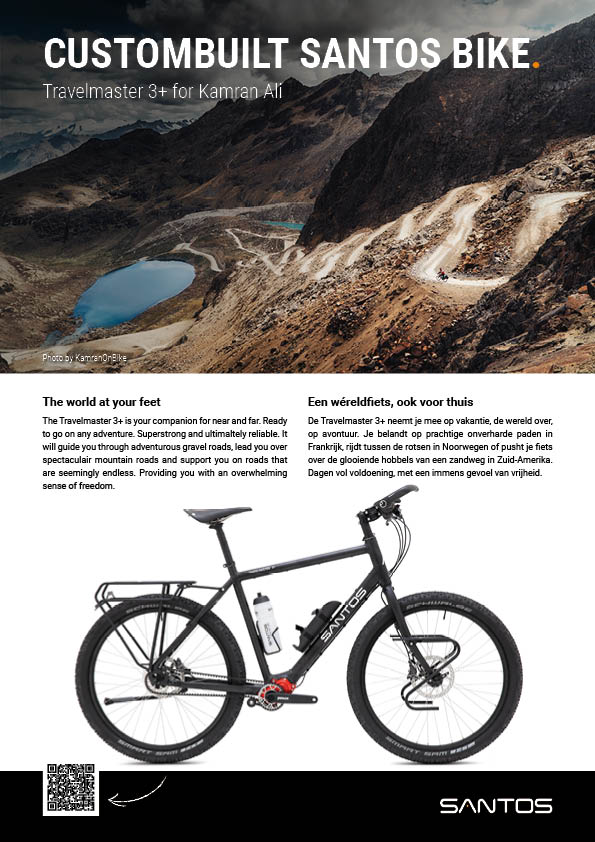 ---